Not so long ago, such a wedding tradition came to us from Europe and America. wedding table for guests or Candy bar ". Such an interesting custom finds favorites among Russian newlyweds. What is a sweet table ? This is a separate area with all sorts of desserts and drinks, where guests can not only taste sweets, but also have a good time with each other during breaks during a banquet. And for small participants of the "Candy bar" celebration in general will be a real surprise.
Making a sweet table is not so difficult, just follow these tips:
The main component of the dessert area for guests - of course, sweets. And today their range is really impressive. Cupcakes, chocolate figures, marmalade, caramel, cookies, candy, candy, meringue - all these goodies will be not only an excellent treat, but also a real decorative element. To make the "Candy bar" more spectacular, try setting it in a certain color palette under the wedding style or vice versa choose a contrasting shade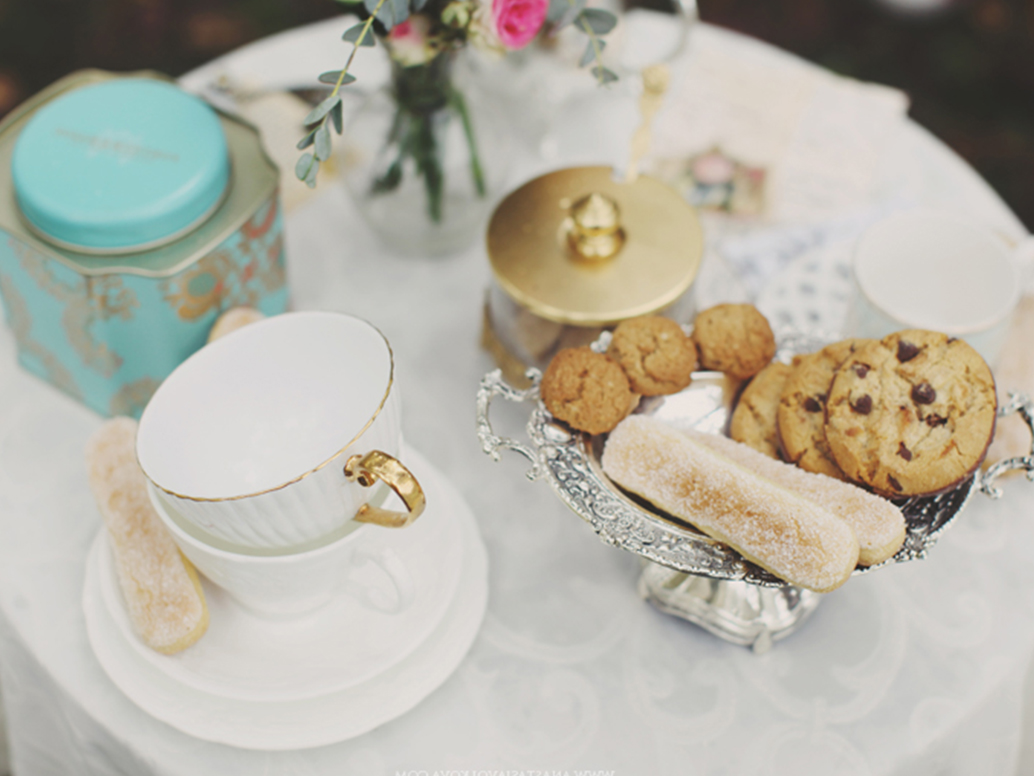 If you wish, you can prepare some treats by yourself. For example, cookies or cupcakes. Guests will be very pleased to appreciate your efforts.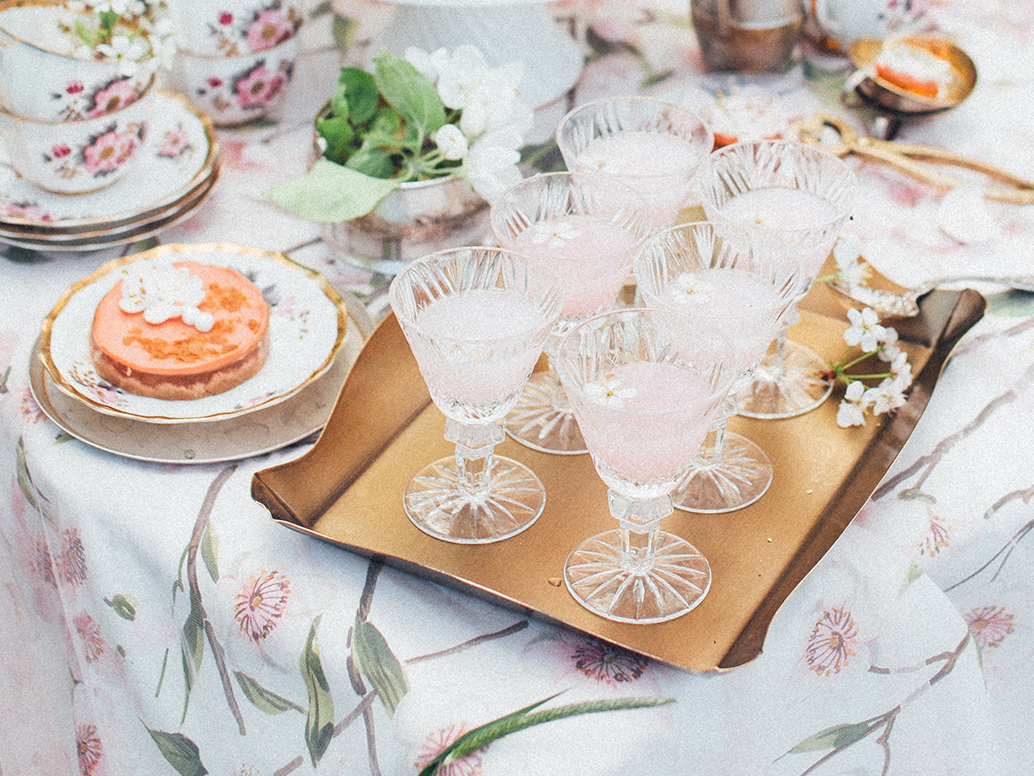 In addition to desserts on the sweet table must be drinks: juices, homemade lemonade, cocktails and more. For winter wedding is better to prepare warming drinks.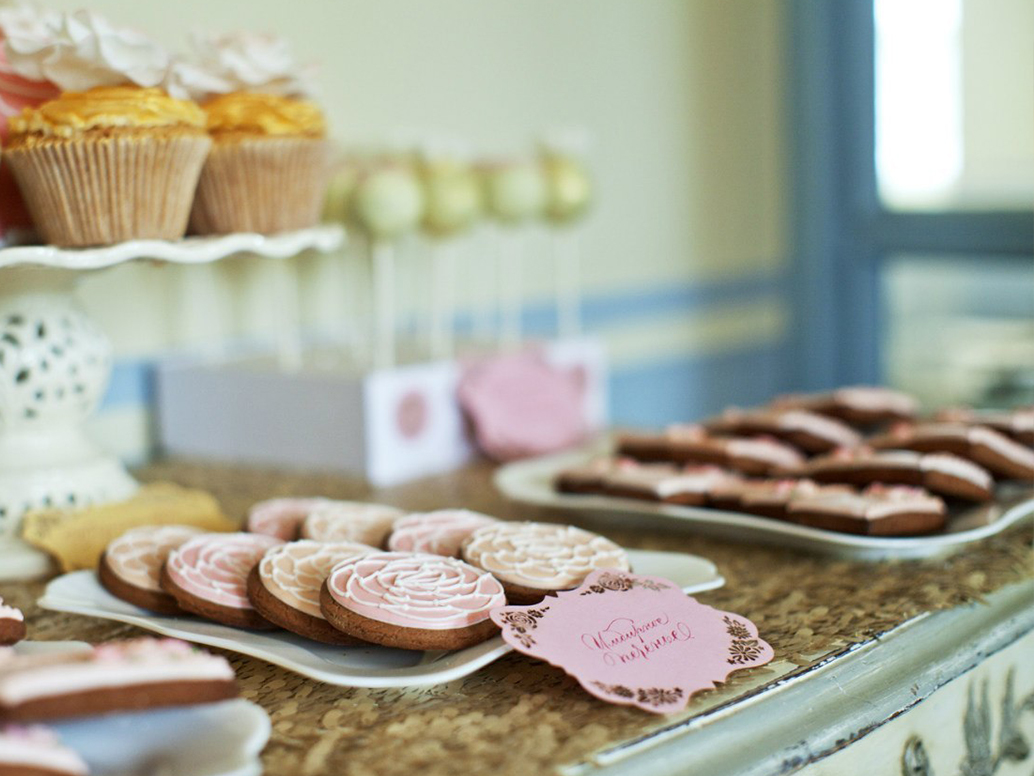 It would not be amiss to make a sign with its composition for each treat. Perhaps among your invitees there are allergies or those who are picky about the ingredients.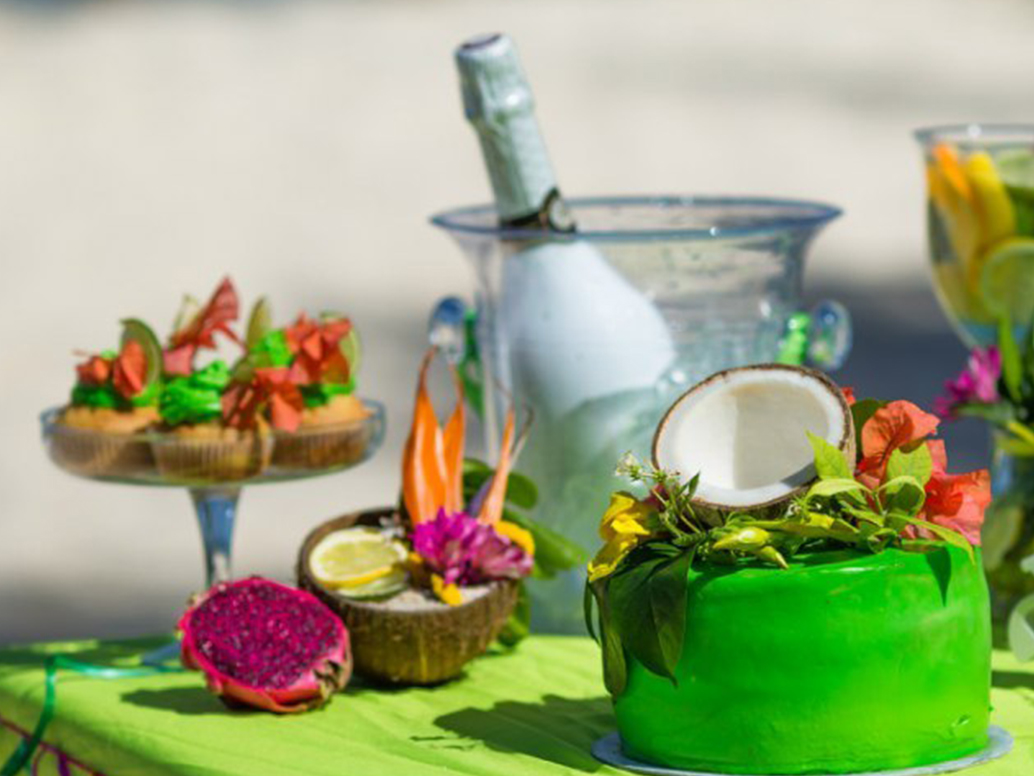 If the wedding celebration will be organized in summer in nature, you need to take extra care that the desserts do not lose their appearance and melt. Therefore, it is better to place the "Candy bar" in the shade, and to prepare ice for fruits and drinks.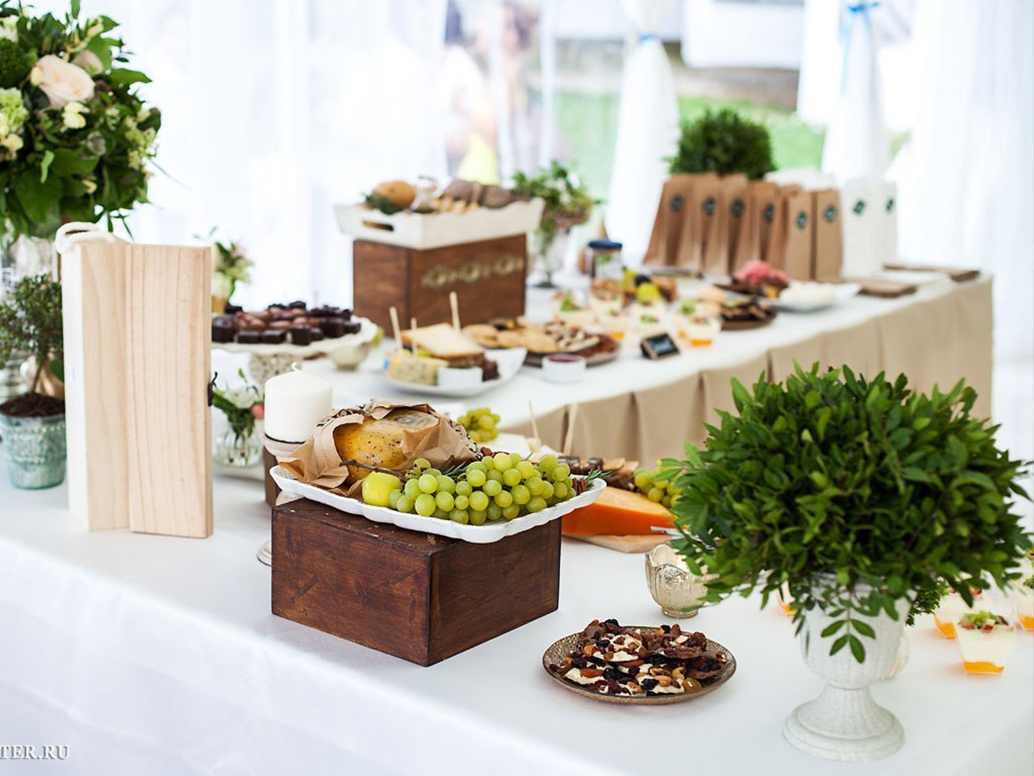 If there are not so many sweet teeth among your guests, then you can make a table with snacks, where there will be canapés, various types of cheese, nuts, fresh baguettes, honey and other products at your discretion.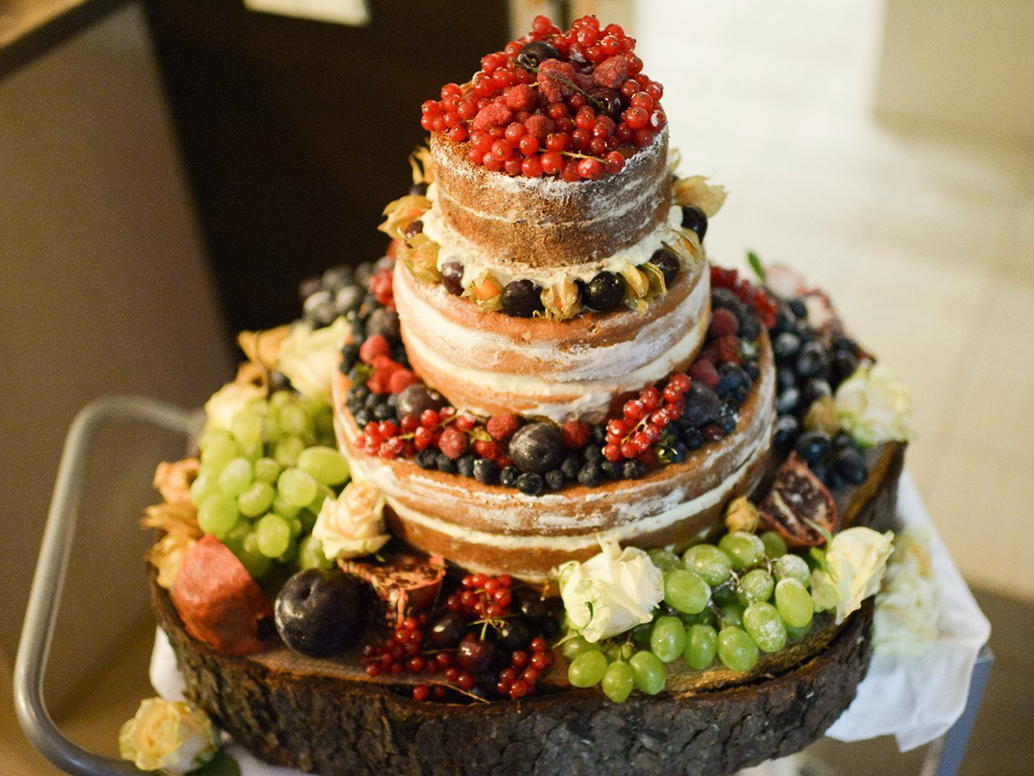 It is not necessary to decorate the table with fruits and cakes, which quickly become chapped. For example, sliced ​​bananas and apples almost immediately lose their appearance.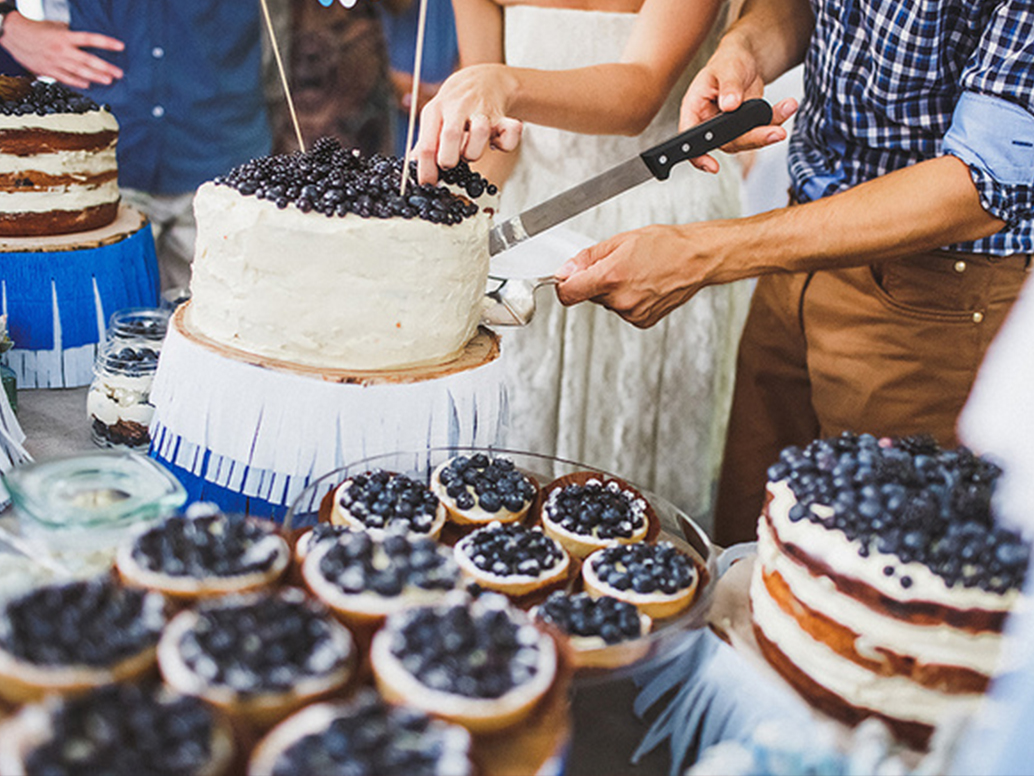 Making out a sweet zone, it is better to stick to one style, which should harmoniously fit into the theme of your celebration.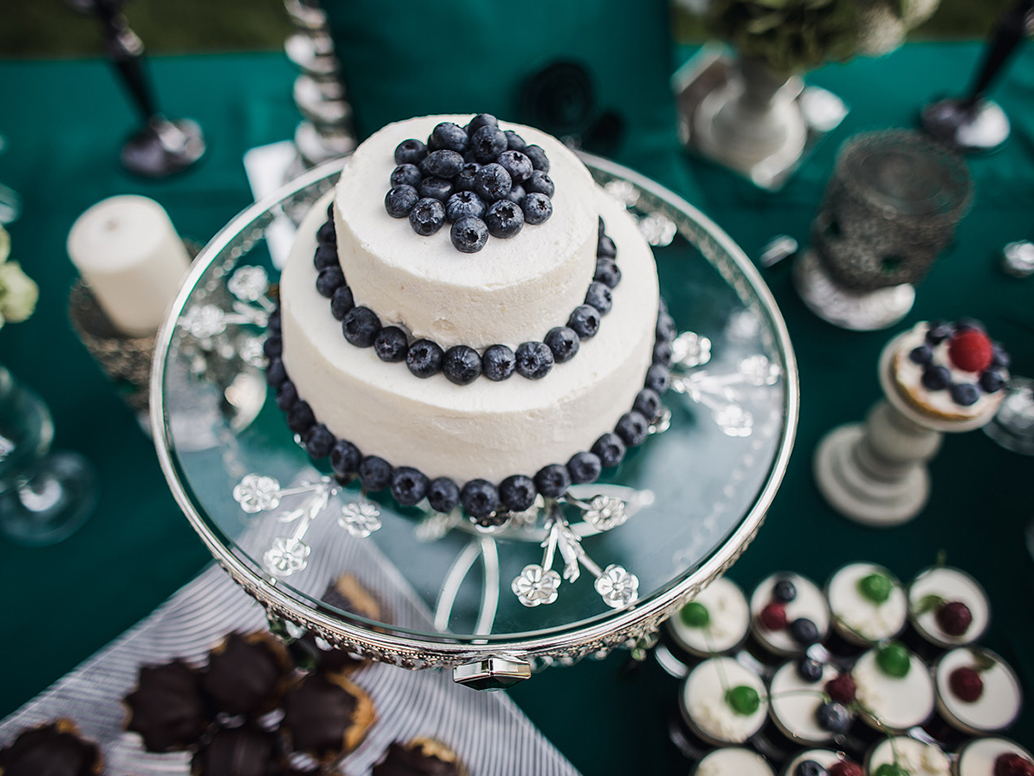 Bright desserts will be an excellent decoration of the table. However, you need to choose for them a certain color range.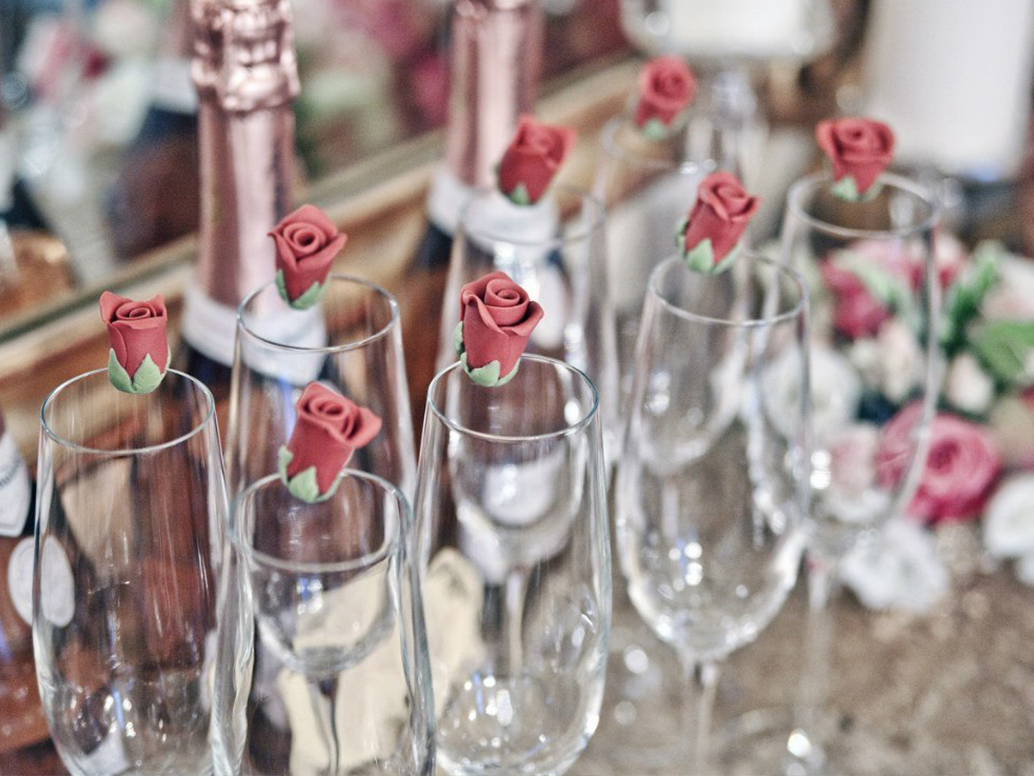 Prepare all the necessary appliances and things on the table so that guests can comfortably eat sweets: napkins, plates and other accessories.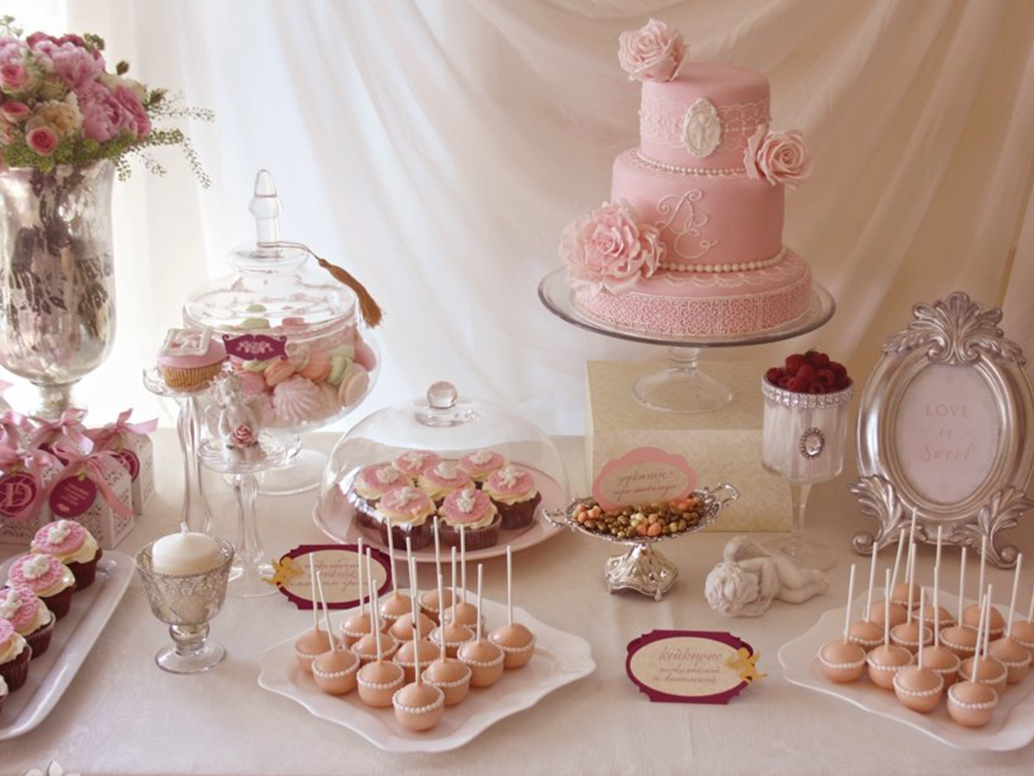 Use paper figures, flower arrangements, fruit vases, garlands, your photos, and also beautiful serving dishes to decorate the sweet table.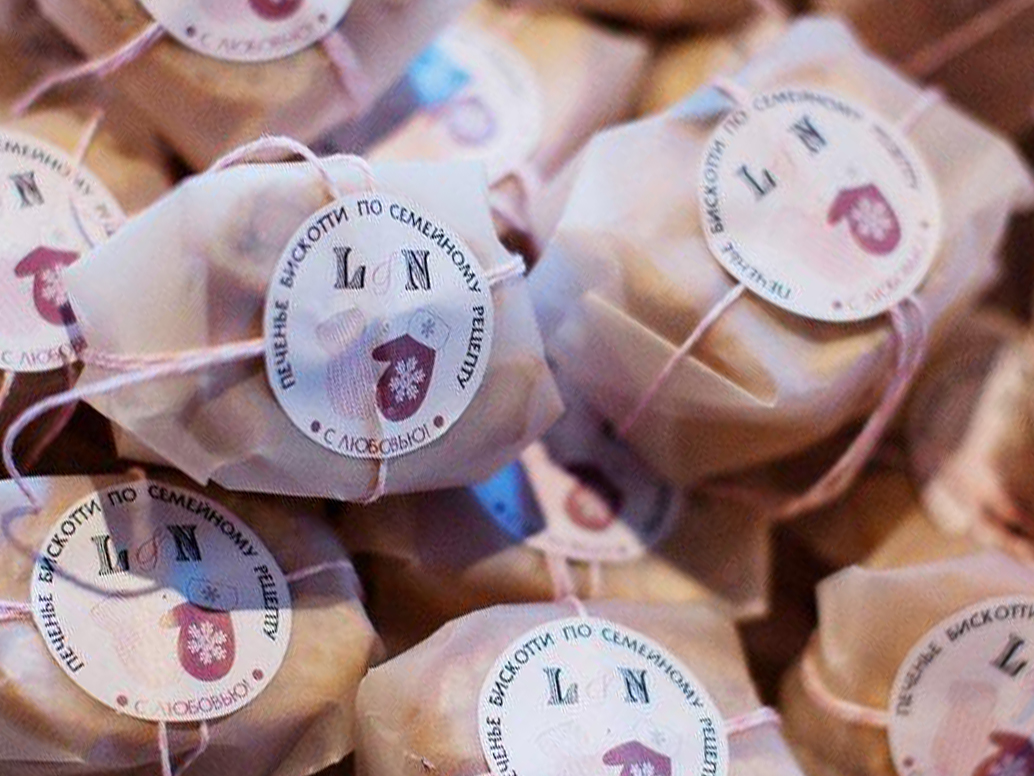 You can prepare small surprises for the participants of the celebration: cookies with predictions or bonbonnieres.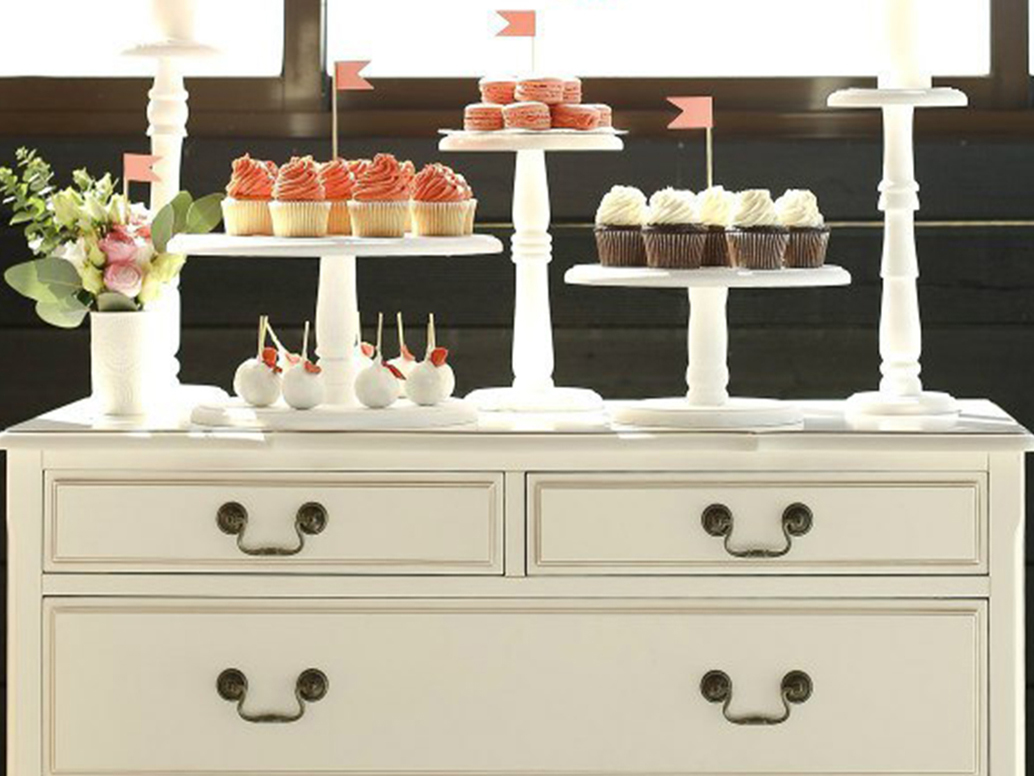 For originality, the traditional table can be replaced with a vintage chest of drawers, if this option is combined with the general style of the wedding.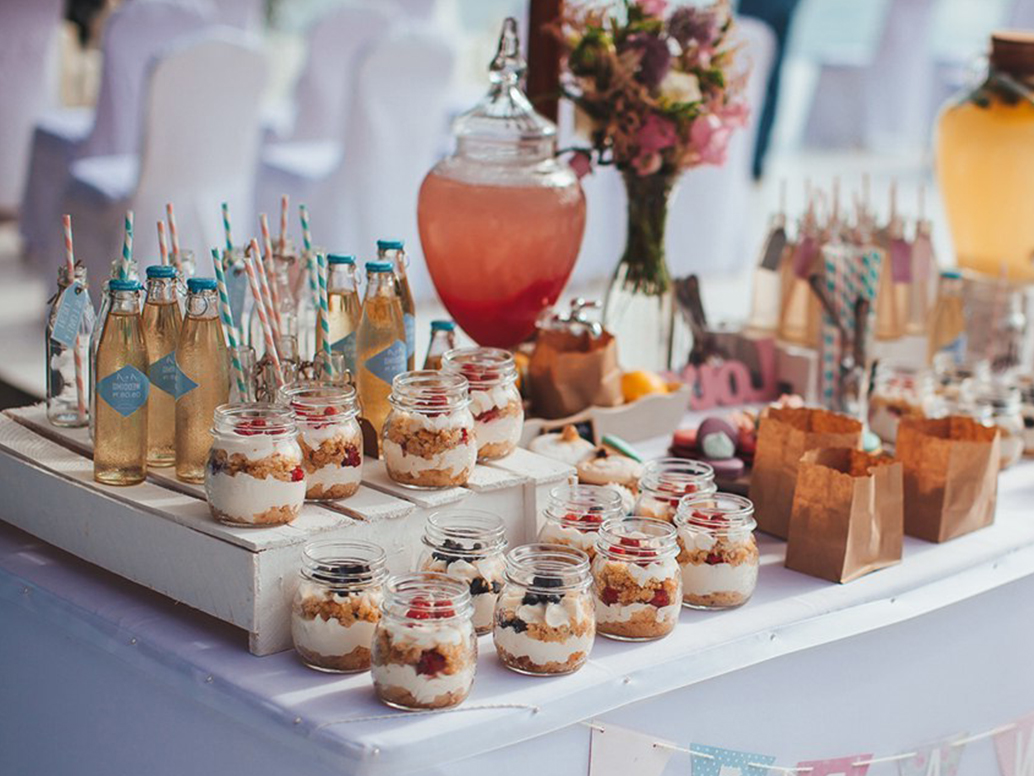 Make sure there are containers and paper bags on the table. Guests may want to take some sweets along.
Share
Sweet table is not only a fashionable European tradition, but also an additional convenience, because among the guests you invited there are always people (especially children) for whom the holiday is a sweet table, and not any other. It is here that the dessert table prepared and thought out in advance will help.
1. PLANNING
color range, background
COLOR SPECTRUM
subject selection
Thinking through the dessert table, be sure to consider the overall color scheme of your holiday and use from 2 to 4 colors for the selection of dishes, sweets, and other elements of the dessert table. If you stick to a specific subject, consider using the most recognizable elements of the chosen subject in your design.
VON (BEC)
for candy bar
To shade and add effect to your sweet table, think about the presence of the background - it can even be a piece of wallpaper of the required size, decorated, for example. The background (its borders) must be visually connected with food!
SELECTION OF TABLE
for candy bar
Consider the size of the selected table - it depends on your choice how your sweet table will look: it is very important that your composition looks unified, and not empty or overloaded. If the table is too large, then consider using part of it for other purposes, such as a photo of a birthday boy, a guest book, etc. It is important to remember that too long an empty table looks unfinished, so place the food tightly enough to each other.
Layering and symmetry
In fact, height is important. Place containers, starting from the center of the table (it's easier), gradually adding new levels at the expense of stands, stands, boxes wrapped decorative paper , high capacity beautiful shape and gradually fill the empty space. After the main composition on the table is created, decide what the overall "picture" should be symmetrical or, on the contrary, asymmetric.
Dishes and containers
For a sweet table, you may need: split-level shelves, sweets, trays and plates of unusual shape. You may also need high glassware of various heights, tall glasses. It is desirable that the dishes you had not in a single copy.
Decor: signs, labels and more
An inexpensive and easy way to add extra decoration to a dessert table is to make special, in the same style of your holiday, plates or tags with the names of desserts, flags for cupcakes. Dilute your sweet table decorative elements : flowers, seasonal details.
Optional accessories
Do not be redundant next to the dessert table: napkins, tweezers or scoops for sweets, paper molds for muffins, water or drinks.
An important condition for the selection of dishes: desserts for the sweet table should be small size i.e. portions, as guests must take them by hand. When making the menu for a sweet table, it is necessary to take into account that you will need the presence of the following desserts on it in order to satisfy any sweet tooth:
1-2 special desserts : cake or cupcakes - it is desirable that these sweet masterpieces coincide with the main theme or color range holiday, because the focus of all the guests will focus on them.
1-3 desserts to your taste : parfait, mousses, mini-cakes, macaroons, cupcakes, profiteroles, cookies and so on.
2-3 types of sweets for filling the table: various candies, marshmallows or marshmallows, nougat, jelly and so on.
Try to choose different tastes and textures of your sweets to satisfy the taste of any guest, for example: cake + parfait + chocolate + something crunchy.
Who did not dream of a treasure chest with infinite amount of sweets in childhood? Your wedding is the perfect occasion to fulfill this dream!
How to fill the sweet table?
Candies, cookies, mini-cakes, meringues, cupcakes, macaroni, donuts, chocolate - fill the candy bar with your favorite sweets! Besides the fact that they are very tasty, the sweets themselves are the decoration of the table, because they are all bright and bright.
Recently, unsweetened "sweet tables" have become more and more popular, for example, with all kinds of cheeses, baguettes, ciabatta, canapes or vegetable tables with appetizingly spread out radishes, carrots with tops, eggplants. This option is especially relevant at weddings in the style of rustic or eco. And of course, where without fruits and berries! They will be a great addition to any table on a hot summer day.
Do not forget that whether it is vegetables, fruits or cupcakes, they should be within the style and color of your wedding. You can use a palette that complements the overall design of the wedding, or play on contrasts to highlight the sweet zone.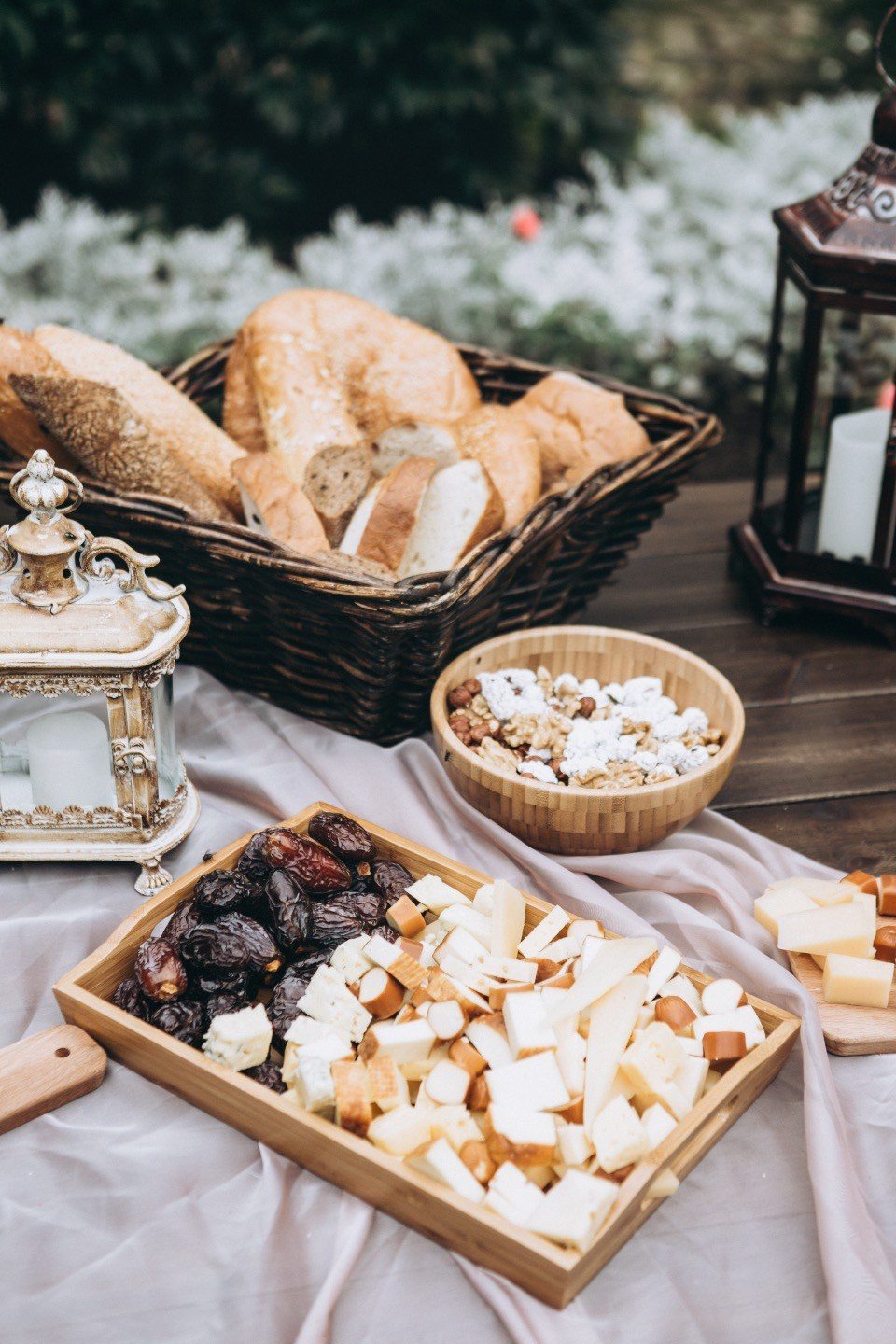 Drinks on the sweet table
These can be homemade soft drinks and fruit drinks in large jugs or light cocktails, as well as small bottles of soda. Do not forget about plain water. It is important that drinks also be part of the overall design of the candy bar, all sorts of tubes and tags, cups and even the colors of drinks can emphasize the style and palette of the holiday.
Sometimes wooden or metal boxes with craft beer or Coca-Cola are put on a sweet table, as these bright bottles or cans themselves create a festive mood. To keep drinks cool and refreshing, put them in ice.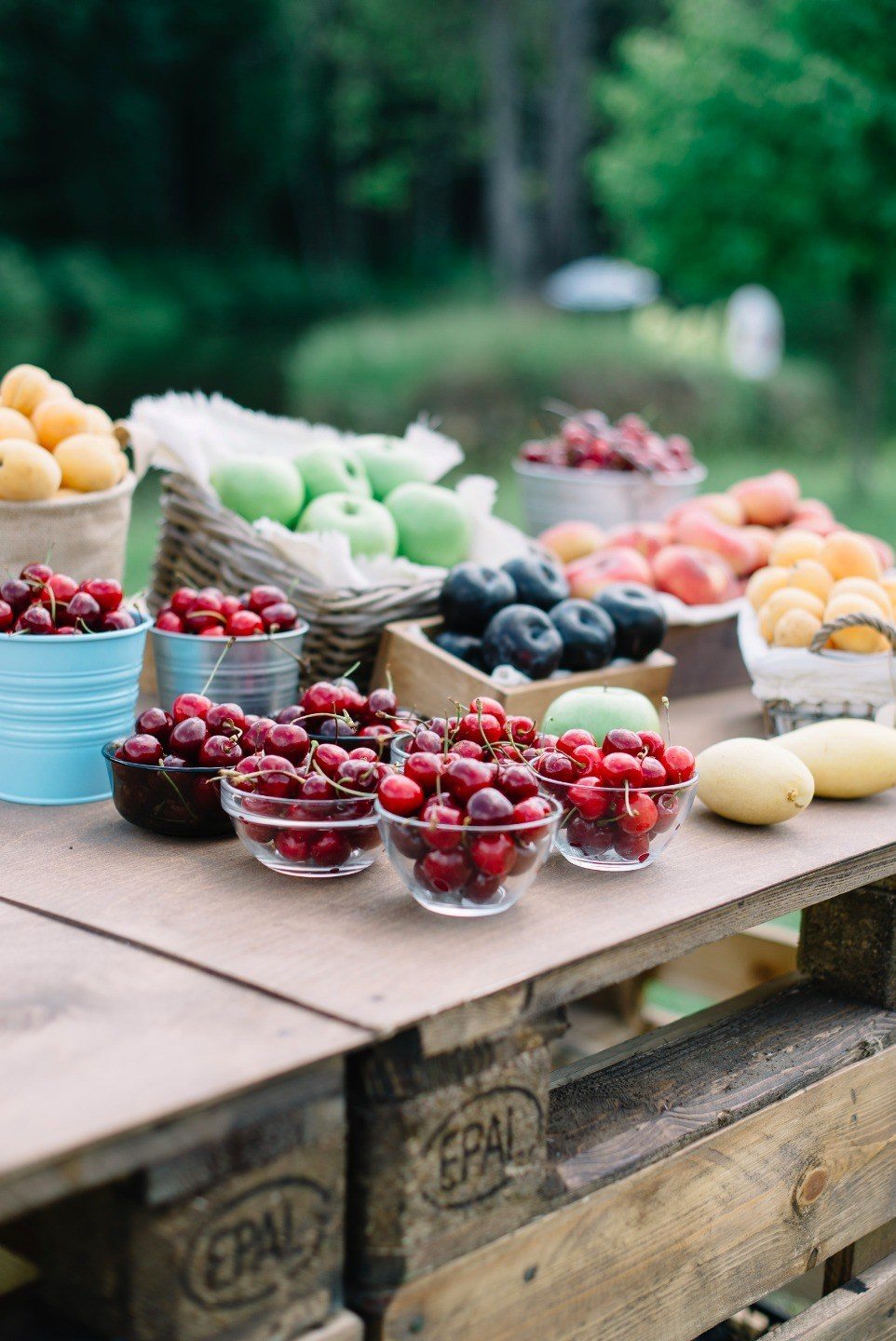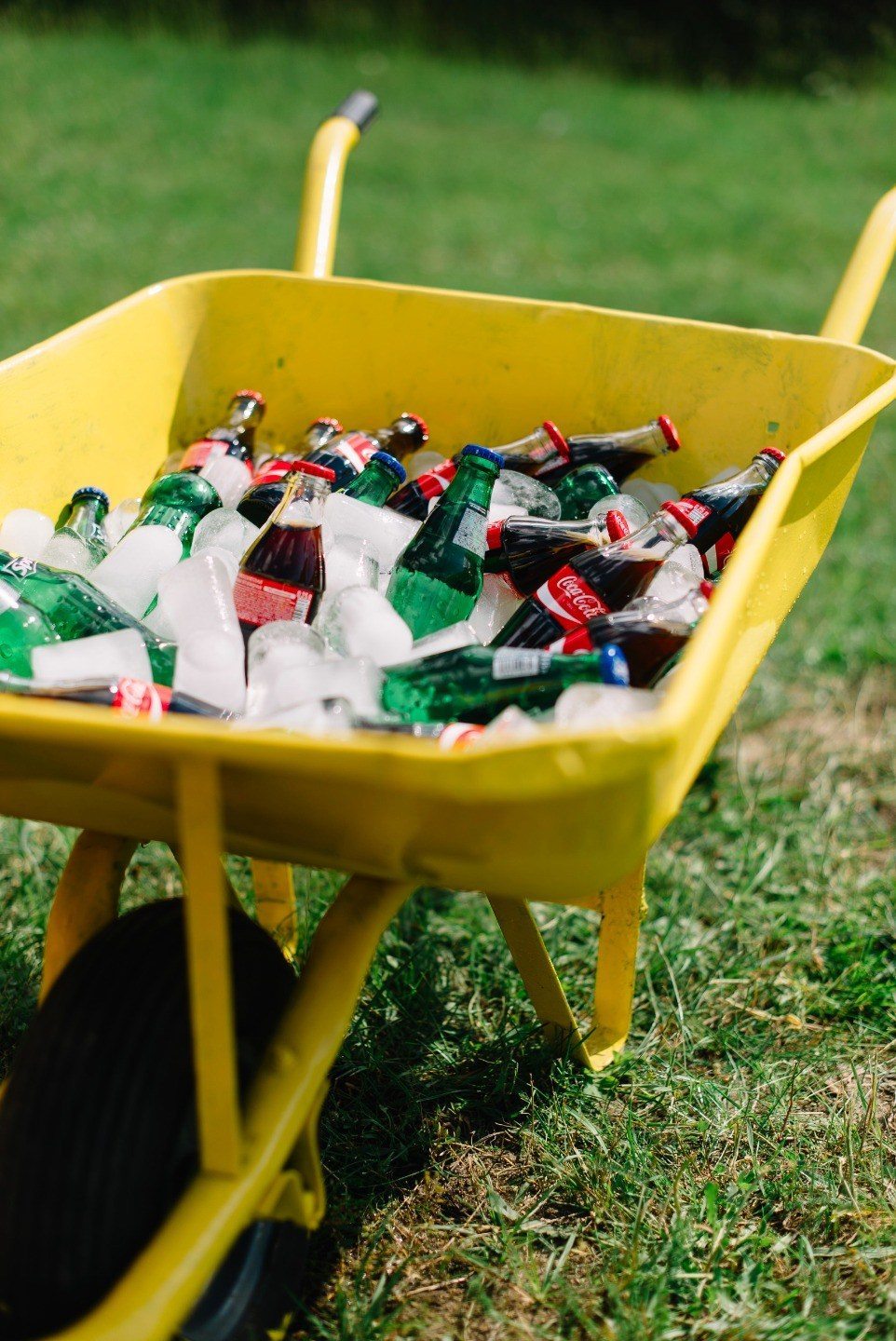 How to decorate a sweet table?
Stylish napkins and textiles, tongs and other appliances for sweets, beautiful glassware, suitable containers for the style - all this forms the basis of the table. Various paper decorations, garlands and vases with flowers and fruits will look great, and the background at the table in wedding style will complement the overall decor.
An interesting tablecloth, shelves, shelves - all this can be done in the spirit of romantic France, passionate Spain, cold Iceland or hot Italy, with ocean notes or in the style of a blooming garden.
Instead of the traditional table, you can use vintage dressers or coffee tables, then this area will also become a place for photo shoots. And you can decorate the sweet zone with various parts : vintage watches, vases, moss, garlands, aged dishes, or even haystacks will help complement the design and make it more interesting.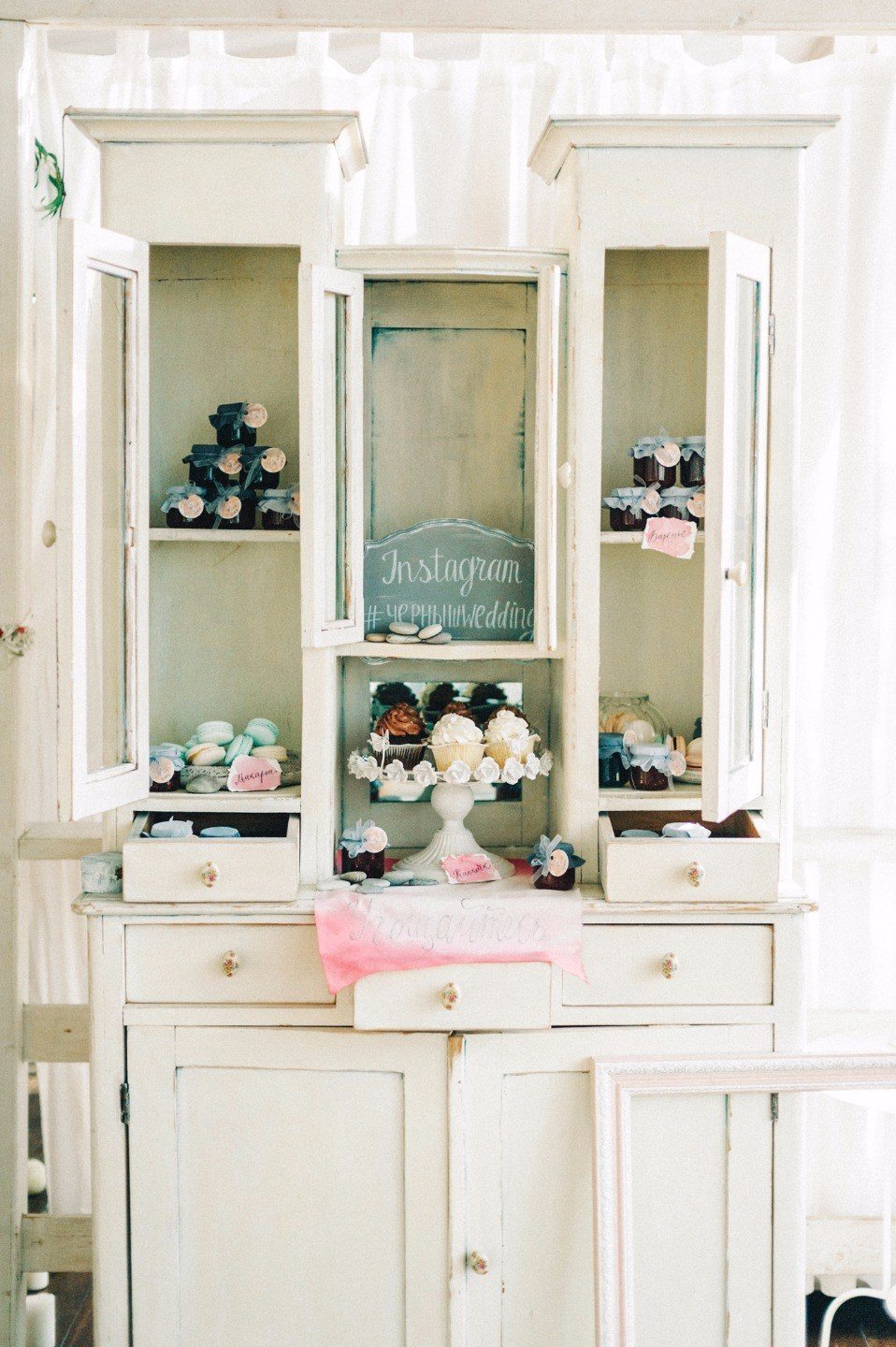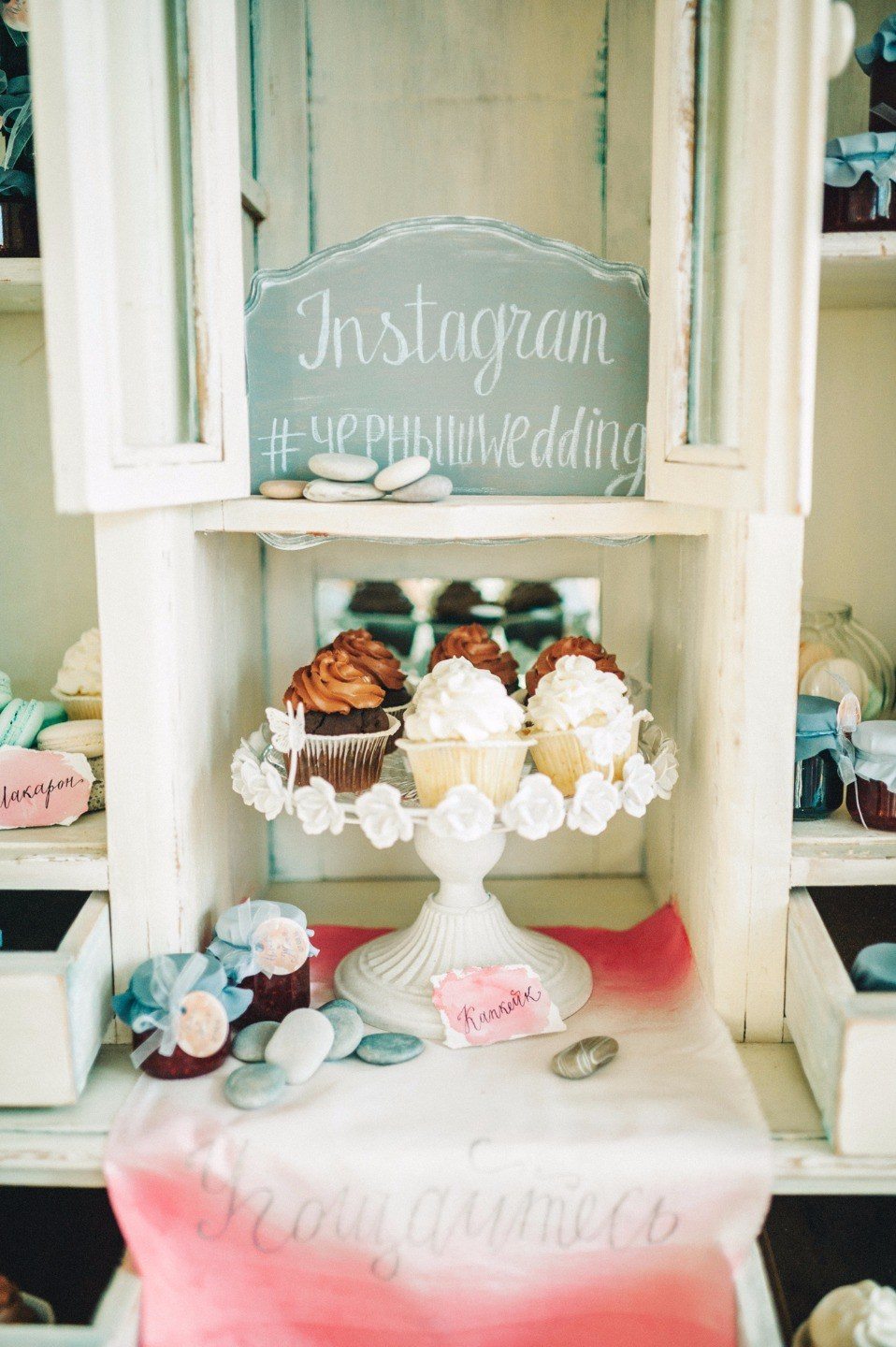 Chocolate inspiration
Cream-chocolate range is suitable for a luxurious wedding, and for low-key, for example, in english style . In such color combination the sweet table looks very elegant, especially if you add golden shades to it.
Broken bars of chocolate, truffles, mocha airy desserts, decorated with coffee beans and openwork cookies with icing in a wedding style look great in the company of aged boxes and ornate stands.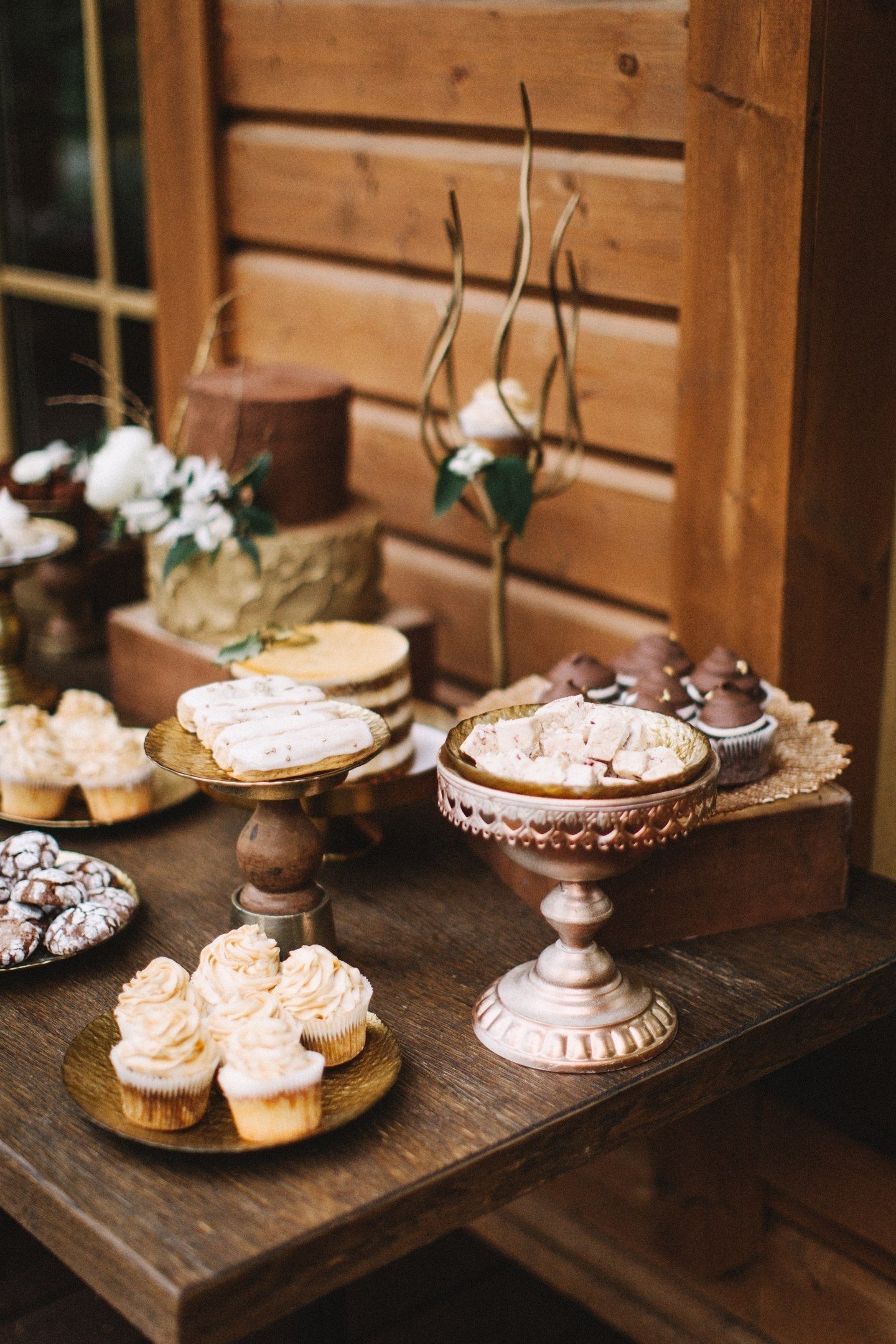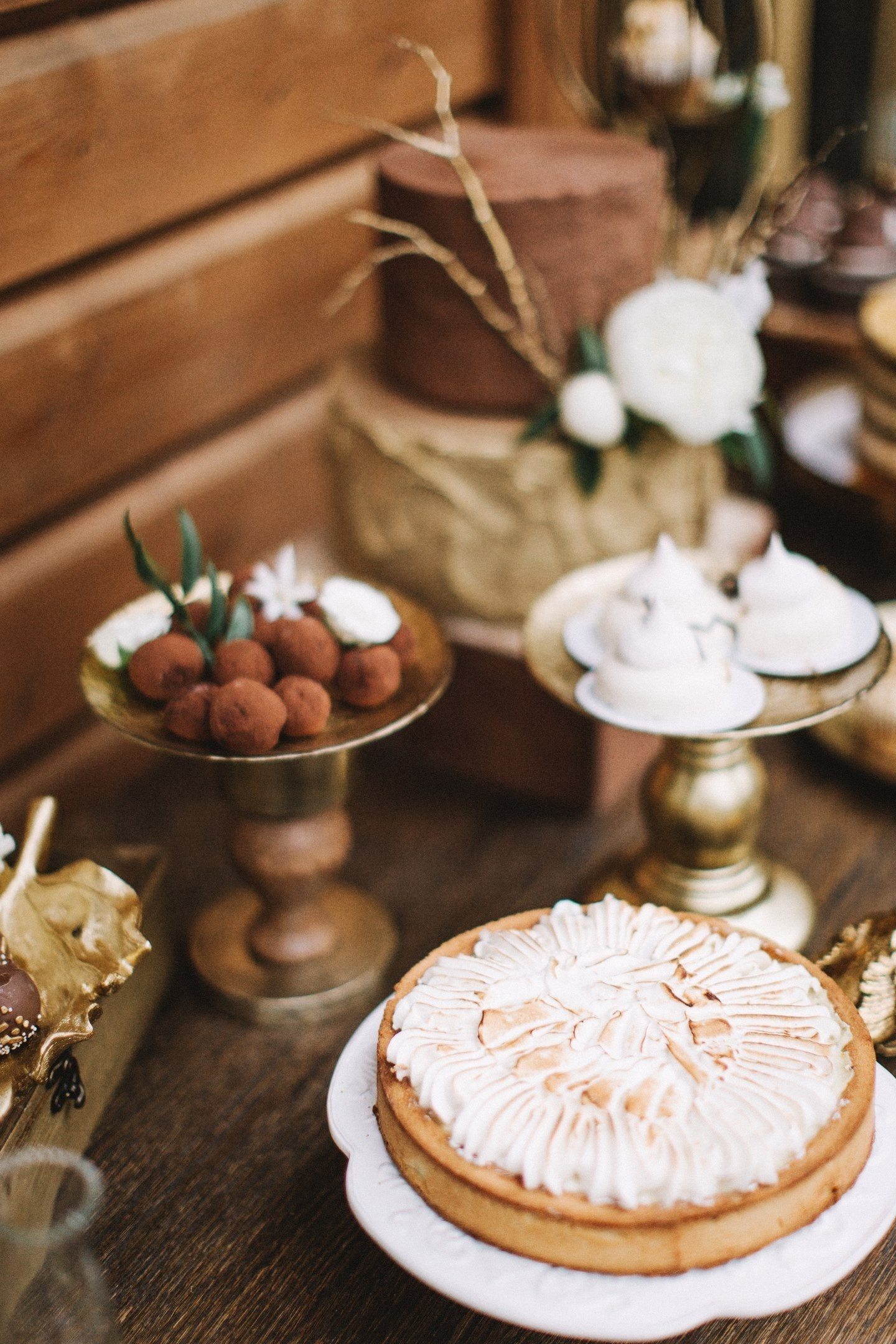 Bright inspiration
Bright sweets are suitable absolutely for any celebration. It is only necessary to determine the scale. Will it be pink, lilac, blue, yellow or multi-colored.
Best of all on a bright table will look such sweets as multicolored cupcakes, cake pops, macaroni, laid out with a gradient from one color to another, as well as pastila, dragee and marmalade. An interesting accent to sweets on a juicy and bright table will be cheerful tags, made in the general style of the wedding.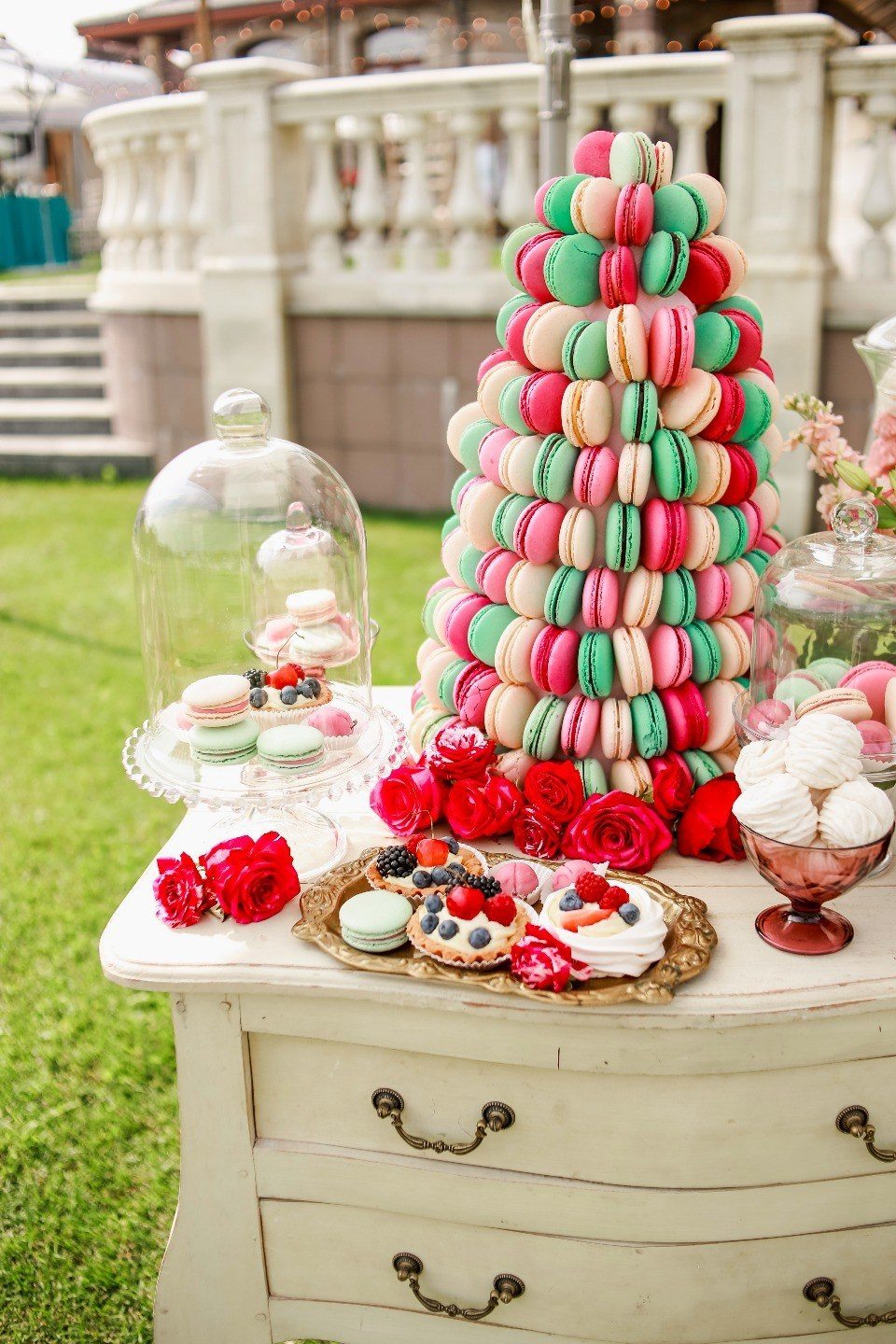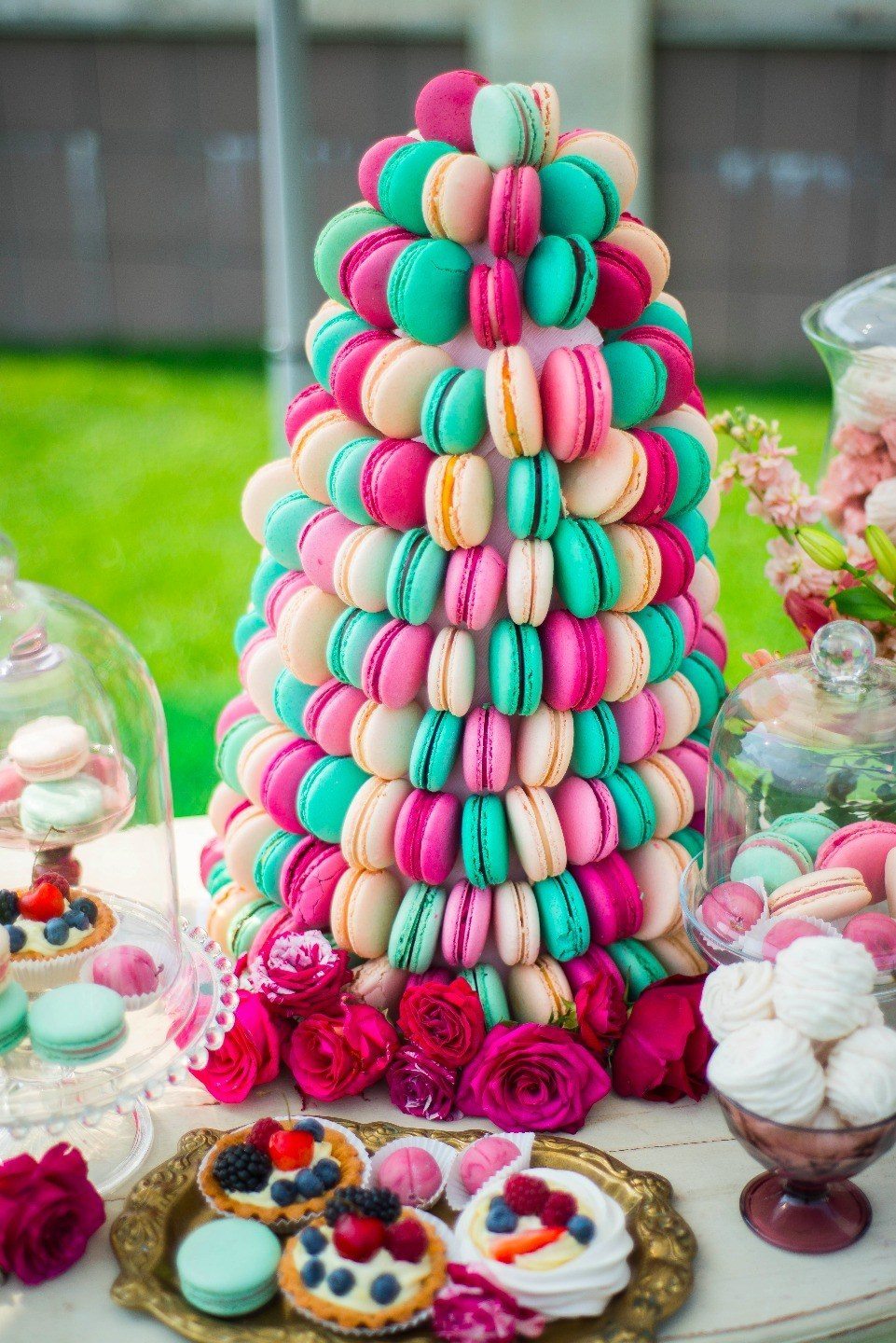 If you are celebrating a wedding in nature, and even in the hot summer, you should take care of the correct conditions for storing sweets. Refuse from treats with whipped cream and curd cream - they deteriorate in the heat for a couple of hours. And so that sweets do not melt and not lose their attractive appearance, arrange the table in the shade, you can make special ice forms for fruit.
Candy bar can be placed in the Welcome area or near the photo zone, and if you wish, you can select a separate area for it with armchairs or cozy sofas, for example, on the veranda.
It is better not to use fruits and pastries, which can quickly wear out, for example, sliced ​​bananas and apples.
On the sweet table must be napkins and simple drinking water.
All sweets should be convenient to eat without the use of additional cutlery.
It is also necessary to provide bags or paper packaging so that guests at the end of the evening can take the remaining treats home.
Try to stick to the same style in the design of the sweet zone, so that it is in harmony with the concept of your wedding.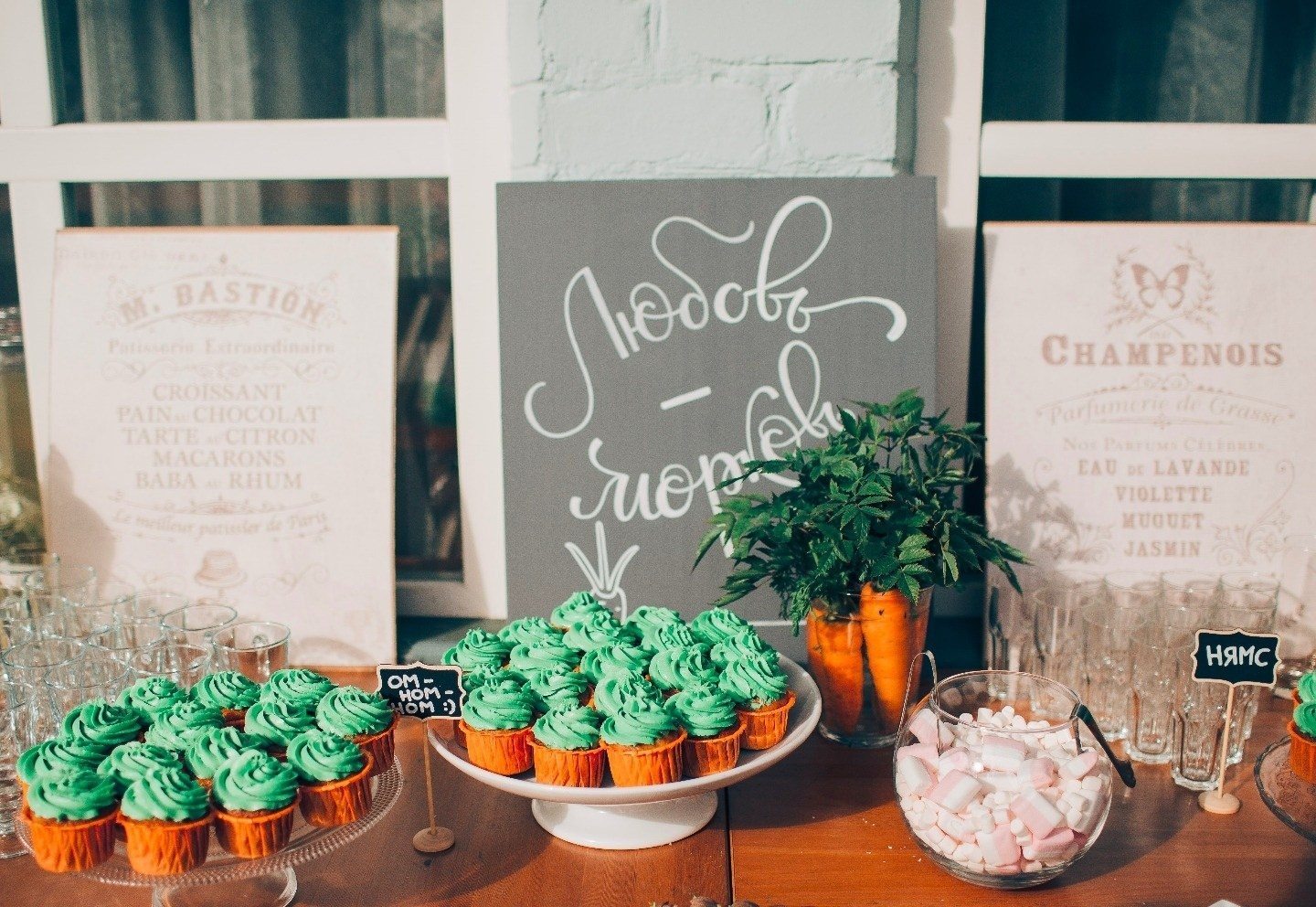 A sweet wedding table has just recently become fashionable. This trend was borrowed from European wedding traditions. This is an excellent and, of course, a tasty decor element. At the wedding table, guests can take pictures and chat, enjoy great confectionery. From this article, you can learn ideas for decorating a sweet table.
How to make a sweet table
A sweet table is an important component of the decoration, and not just a corner with sweets. The table will look more beautiful if, in addition to sweet, there will be a variety of paper decorations, flowers, fruits, figurines on it. Also, the table can be decorated with a large photo of the newlyweds.
You can order the design of the festive sweet table in the restaurant where the wedding will be held. Designers will take into account all your requirements and wishes, will help arrange the table in accordance with the theme of the celebration. Such an element of design will be very pleasant to your guests and will provide them with a great mood for the whole day. Sweet tooth such a table with sweets especially like. Guests can not only enjoy sweets, but also appreciate the refined table decorations.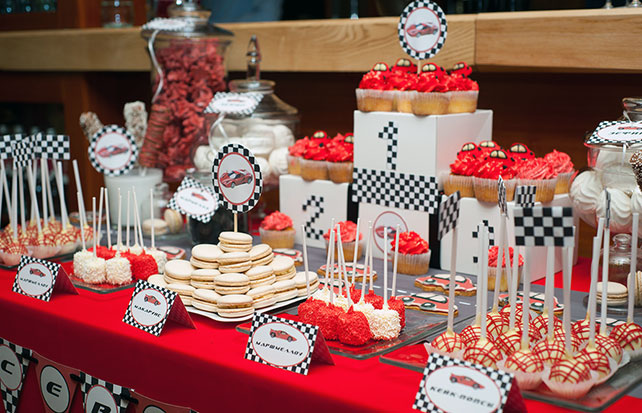 What details need to be considered when decorating the table
If you are going to celebrate a wedding in nature, and even in hot weather, make sure that the treats are not spoiled. To do this, put the table in the shade, and place the fruit in ice molds.
Do not use fruits and pastries that quickly lose their attractive appearance and become chapped, such as bananas, tangerines and apples.
On the table must lie napkins.
To prevent the remaining treats from spoiling, prepare the bags and packaging so that guests can take them with them.
Making a festive sweet table, stick to the same style.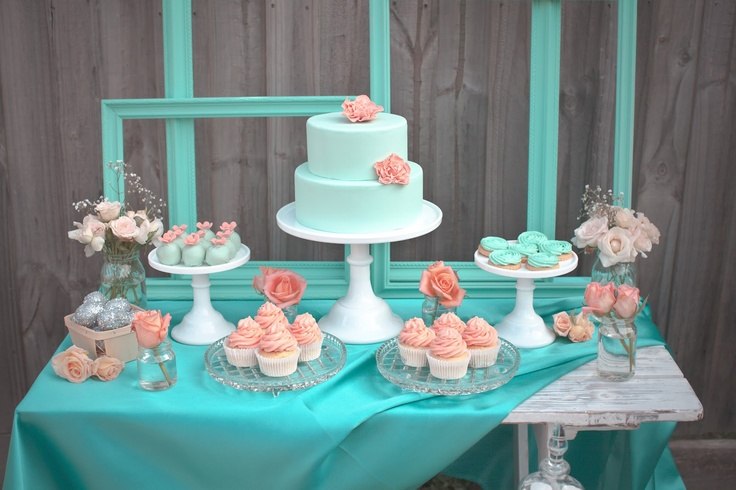 What sweets put on the table
Cake has always been considered an integral part of a wedding celebration. But more recently, this tradition has ceased to be respected. The list of traditional delicacies has greatly expanded. Muffins, cupcakes, pasta and other sweets ousted "standard" pastries.
There are many kinds of sweets. You can decorate a wedding sweet table not only with small cakes, cakes and cookies, but also with newfangled dishes: candied nuts, fruits, tarts, donuts and so on.
Also in the fashion came in the decoration of confectionery pastila. Thanks to this edible material, you can create a variety of figurines, curlicues and ornaments on the goodies. In this way, a real culinary masterpiece can be made from the product. To give the candy desired color , use natural dyes.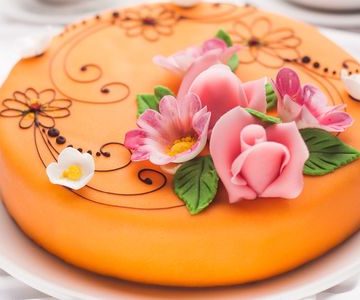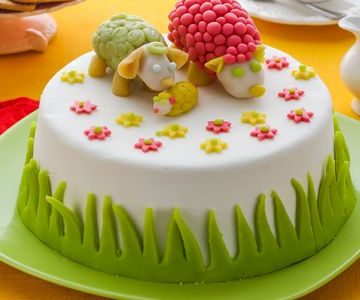 So how to decorate a sweet table so as to impress guests? In fact, it is not difficult. Sweets should not only have an unmatched taste, but also look aesthetically pleasing. Decorate with tasty small edible beads, hearts, rosettes, and then the sweet table will definitely not go unnoticed. Guests will remember these sweet masterpieces and their divine taste for a long time.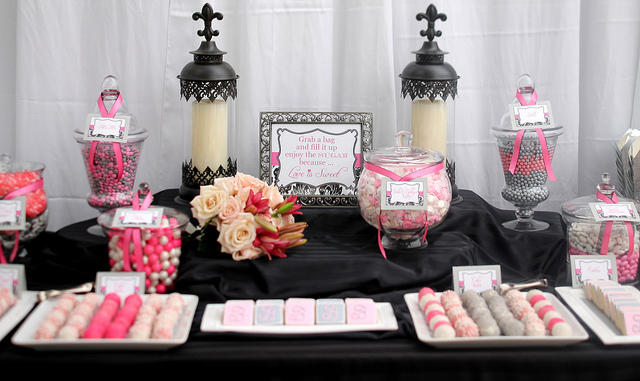 Drinks for a festive sweet table
Without refreshments can not do, especially if you are celebrating a wedding in the summer. Place on a sweet table different types of lemonade, soda, mineral water, cocktails, fresh juices. Pour the drinks you need in colorful bottles and glasses. Your sweet corner will be decorated in a certain style, and therefore you need to serve drinks in accordance with the theme. To keep the drinks cold, add ice cubes.
But what banquet can do without aromatic coffee, chocolate and odorous tea? Recently popular chocolate fountains. It is convenient because guests can pour themselves a drink at any time. Guests can fill the glasses with expensive wine or champagne by the fountain on a festive sweet table. Cola, sprite, beer and other similar drinks are served in bright cans.

Making a sweet table with your own hands
If you are strong in design, try making a corner with sweets with your own hands.
The table must be covered with a tablecloth.
Multi-tiered - a distinctive feature of the sweet table. Arrange the goodies and drinks at different levels.
Take into account not only the aesthetics of desserts, but also their properties. Try to avoid perishable pastry.
Save on sweets is not worth it. Most likely, the guest will really like some goodies from the sweet menu, and he will want to eat them again.
The color palette of delicacies should be in harmony with the overall style of the wedding celebration.
Napkins should also match the color of the sweet table.
Decorate your sweet zone with different decorations: photos of newlyweds, ribbons, large letters. Here you can give free rein to your imagination.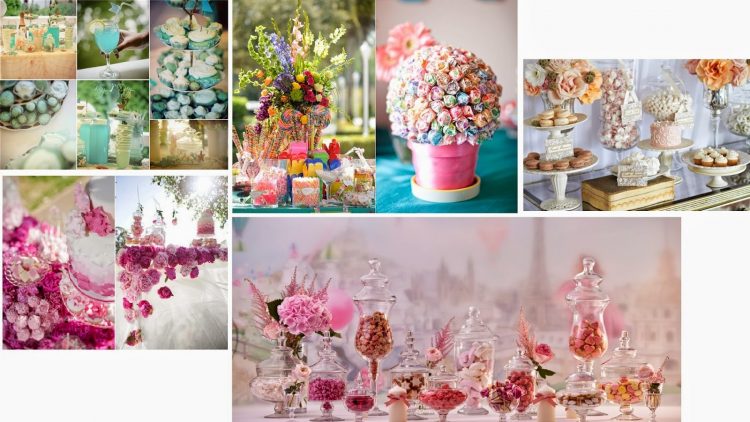 Related videos
Who did not dream of a treasure chest with infinite amount of sweets in childhood?
How to fill the sweet table?
How to decorate a sweet table?
So how to decorate a sweet table so as to impress guests?
But what banquet can do without aromatic coffee, chocolate and odorous tea?